So you have made your guesses... where and what exactly is it?
We made a
post
on our Facebook page the other day asking you guys to make a guess on where this place is. We also received a lot of inquiries but unfortunately, this beautiful resort is still under construction!
But let's get on with what this place exactly is.
Funtasy Island
Singaporeans would be glad to know that this amazing place is located at our favourite neighbouring country where we can find our all time favourite Kek Lapis -- Batam, Indonesia!
If you don't already know, Funtasy Island has already soft launched last quarter of 2016. As of today, only the Corallium Villa has already completed construction. But we'll give you first dibs of an artist's impression of how other villas will look like!

OceanFront Villa
(image courtesy of Funtasy Island)
The OceanFront Villa features a grand balcony and living hall directly on the beach, with an abundance of light to create an inviting sanctuary.

Breeze Villa
(image courtesy of Funtasy Island)
These one-bedroom villas are perfect for couples or small families. The open plan kitchen you see is designed to merge with the surroundings with an exclusive lounge and dining area opening to an extensive deck area.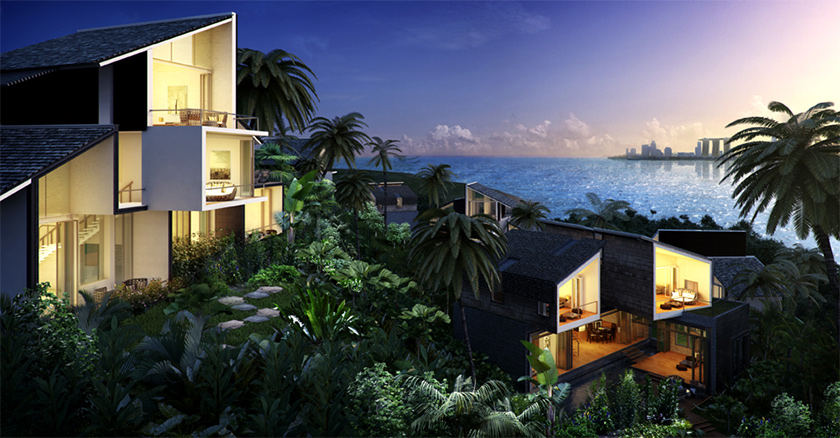 Forest Bungalow
(image courtesy of Funtasy Island)
From the looks of it, we're expecting bungalows with a glass concept in the middle of lush greenery. These are perfect for large groups and big families!
Aqua Villa
(image courtesy of Funtasy Island)
This one's our personal favourite. The Aqua Villa is built to cultivate an intimate experience for the guest with the oceanic environment around them. In the day, you can slide away the living room's wall panels to create an open concept for the villa. Slide it on at night to create a cosy feel while you turn down for the night. Or you can leave it open at night as well, you know, whatever floats your
boat
.
Over-The-Water Villa
(image courtesy of Funtasy Island)
For animal lovers, this one might be your favourite. True to its name, the villa will be located directly above the water. Because it's located so near to the dolphin habitat, you might be able to see dolphins swimming happily right from your villa. Be friendly, they might even swim to you!
The Cove
(image courtesy of
Funtasy
Island)
The Cove is located on a hillside surrounded by mangrove. It features an oversized outdoor veranda where you can enjoy the cool sea breeze right from your accommodation.
What else can you expect from this development?
The world's largest eco theme park
The eco theme park spans over 300-hectare of land boasting a range of attractions and an integrated ecological playground for guests to enjoy. We're thinking snorkeling, diving, nature walks, spas, sailing and boat rides.
Beach Club
Image courtesy of Funtasy Island
The beach club is the ideal place for water sports and other ground activities perfect for groups, companies, and individuals. You'd be glad to know that the beach club is open for all, not only limited to the resort's residents!
Image courtesy of Funtasy Island
Calling all adventurous couples looking to have a different kind of wedding! You'd be glad to know that Love Island has wedding and anniversary packages ranging from wedding suits, hair and makeup, all the way to entertainment and sound system. Just don't forget to invite us too okay? 😜
For more information on Funtasy Island, click
here
.