Happy #IcecreamMonth: 10 places to get your sweet tooth fixed
Happy Ice Cream Month! This would be the list for you if you're a sweet tooth, and need a list you can keep for you to refer to whenever your sweet tooth acts up. Allow us to be your dentist, read on!
1. Creamery Boutique Ice Creams
Ice-cream on top of an oozing lava cookie? We'd say yes, please! We love that this dessert is not too sickly sweet, we like things well balanced. Watching the friendly waiters 'piak' your scoop of ice-cream down on the cookie is a sight to behold. Did we tell you they also have a salted egg lava cookie version?
Address: 139 Tyrwhitt Road #01-03 Singapore 207557
Price: $
$$$$
Web: https://www.facebook.com/creamerysg/
2. Meet & Melt
We recommend sharing this big plate of dessert, especially when you're having a toast for one! Unless you're a big eater, of course, we don't judge 😀 For some reason we love all things lava, cut through the toast to reveal the lava flavour of your choice.
Address: Blk 915 Tampines Street 91 #01-49 Singapore 520915
Price: $
$$$$
Web: https://www.facebook.com/meetandmelt/
3. Momolato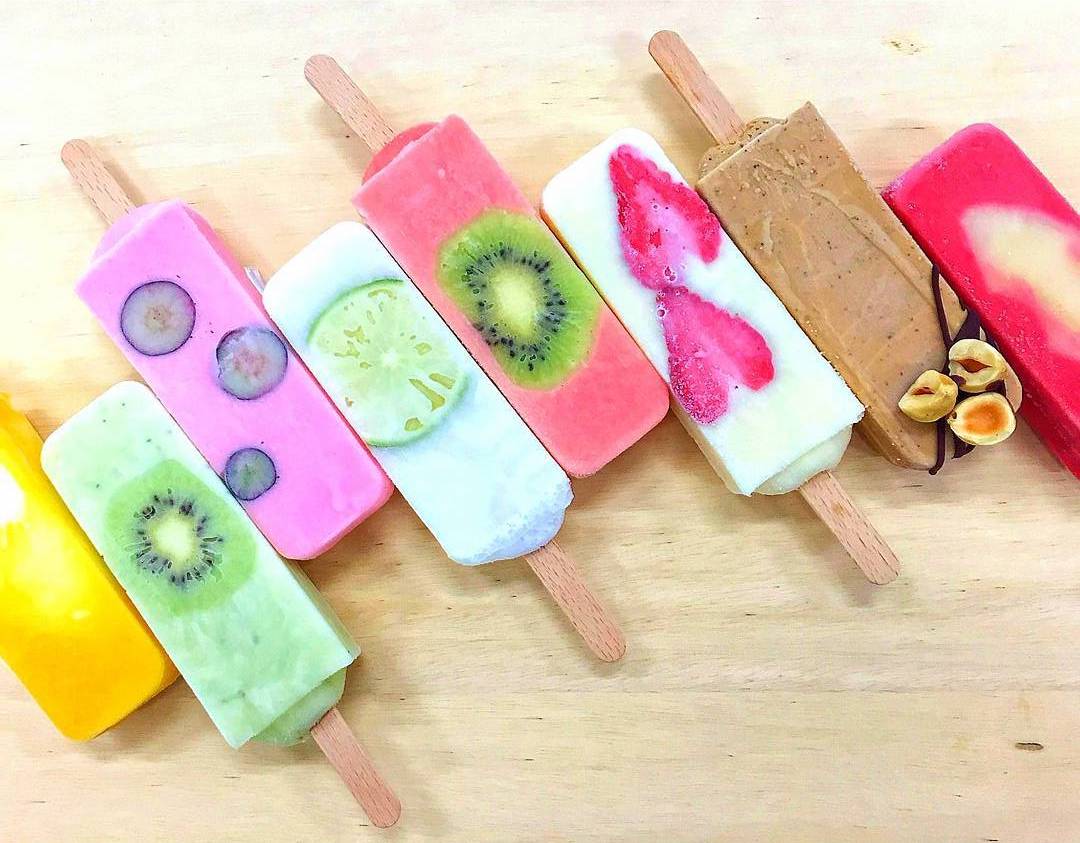 Imagine how refreshing it is to be having this on a hot day. We're already sweating just thinking about it! Grab your all-natural popsicle made with real fruit at Momolato. Our favourite is Red Watermelon with Kiwi 😋
Address: The Cheese Shop 267 Joo Chiat Road #01-01 Singapore 427521
Price: $
$$$$
Web: https://www.facebook.com/momolato/
4. Poppy Pops
This hidden gem (literally!) amongst the crowd at the sixth storey of Jem serves Instagrammable ice-cream pops. It's hidden that even frequent shoppers at Jem don't even know that there's a sixth storey to the shopping mall. It can only, in fact, be accessed through the food court and the rooftop of the shopping mall.
Address: JEM, 50 Jurong Gateway Road #06-03 Singapore 608549
Price: $
$$$$
Web: https://www.facebook.com/poppypopsg/
5. Kane Mochi
You probably already know that 'mochi' is a type of Japanese rice cake. But what happens when you fill the mochi in with ice-cream? Just one word: delicious! We love the classic chocolate Kane Mochi, not because we're boring, but because it's simply delicious.
Address: Bugis+ Link Bridge, 201 Victoria Street #02-50 Singapore 188067 and Waterway Point, 83 Punggol Central #B1-K13 Singapore 828761
Price: $
$$$$
Web: https://www.facebook.com/KanemochiSingapore/
6. Birds of Paradise Gelato Boutique
Source: Birds of Paradise Gelato Boutique
We're all for unique gelato flavours, so we had to include this in. Think Strawberry Basil and Lychee Raspberry. They even had a seasonal flavour of White Chrysanthemum and Mandarin Sorbet last CNY. You know you're in for a treat when dealing with someone who knows their flavours!
Address: 63 East Coast Road #01-05 (Opposite Katong I12 and Roxy Square) Singapore 428776
Price: $
$$$$
Web: https://www.facebook.com/bopgelato/
7. Sunday Folks
Soft serve on waffles? Count us in! The waffles are crispy on the outside but soft and buttery on the inside. Every time we head to Sunday Folks, they never fail us. Waffles are always served crispy and warm, a nice combination with the cold soft serve.
Address: 44 Jalan Merah Saga, Chip Bee Gardens #01-52 Singapore 278116
Price: $
$$$$
Web: https://www.facebook.com/sundayfolks.singapore/
8. Kumoya Cafe
This French-Japanese patisserie cafe serves the prettiest, most Instagrammable parfait plates around. Sanrio character lovers would be glad to know that their Cinnamoroll x Kumoya pop-up is still on going until next month! Too cute.
Address: 8 Jalan Klapa Singapore 199320
Price: $
$$$$
Web: https://www.facebook.com/kumoyasingapore/
9. Latte e Miele
Parents would love this because it's a kid-friendly cafe complete with a playground. Great for when you needed a few seconds to enjoy that gelato, that playground would be handy to distract them for a bit 😂 Our favourite flavour? The Apple Cinnamon.
Address:
200 Turf Club Road #01-34B The Grandstand Singapore 287994
Price: $
$$$$
Web: https://www.facebook.com/lemgelato/
10. Udders
Of course, we save the best for the last. Udders is no longer a stranger to Singaporeans, with their out of this world flavours like the
togarashi wasabi pea white chocolate ice cream
that definitely packs a punch.
Address: Various locations, check the site!
Price: $
$$$$
Web: https://www.udders.com.sg/
There you go, now you don't have any excuses to miss your weekly (or daily, even) #IcecreamMonth date with your other half or pals! Which one is your favourite? Comment below!